Back to Brunswick Instrument home page

WE HAVE MOVED. CLICK ABOVE FOR DETAILS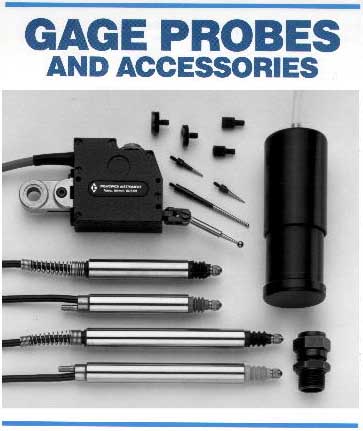 LVDT Gage Probes - LVDT Transducers -
Displacement Sensors - Electronic Gages -
Gage Heads - LVDT Probes
All Brunswick gage probes are designed around the Linear Variable Differential Transformer (LVDT) measurement technique and provide a perfect match for Brunswick's various electronic gage amplifiers.
MODEL 220 SERIES CARTRIDGE PROBES - The 220 series cartridge probes are ruggedly designed for use in production gage fixtures of all kinds. Linear ball bushing plunger construction allows the highest degree of repeatability and accuracy available. The 3/8" body diameter allows direct replacement of dial indicators in most existing AGD standard gage fixtures. All models have corrosion resistant stainless steel bodies and rubber plunger boots to seal out contaminants. The supplied carbide ball contact tip has a .060" radius and maybe interchanged with any AGD standard dial indicator tip having 4-48 threads. Brunswick also stocks several other popular tip styles described below. The probes are supplied with 6 foot cables and quick disconnects.
MODEL 220 OPTIONS
VACUUM RETRACT - Vacuum retract facility is available on either 220 model. The probe plunger may be retracted fully by applying a vacuum source through a tubing nipple on the probe.
REDUCED GAGING PRESSURE - Reduced 30 gram gaging pressure is available on either 220 model.
8mm BODY DIAMETER - 8mm dia. probes are available for mounting in metric standard fixturing.
Want More Information?
Contact us with your requirements by phone, fax or email.